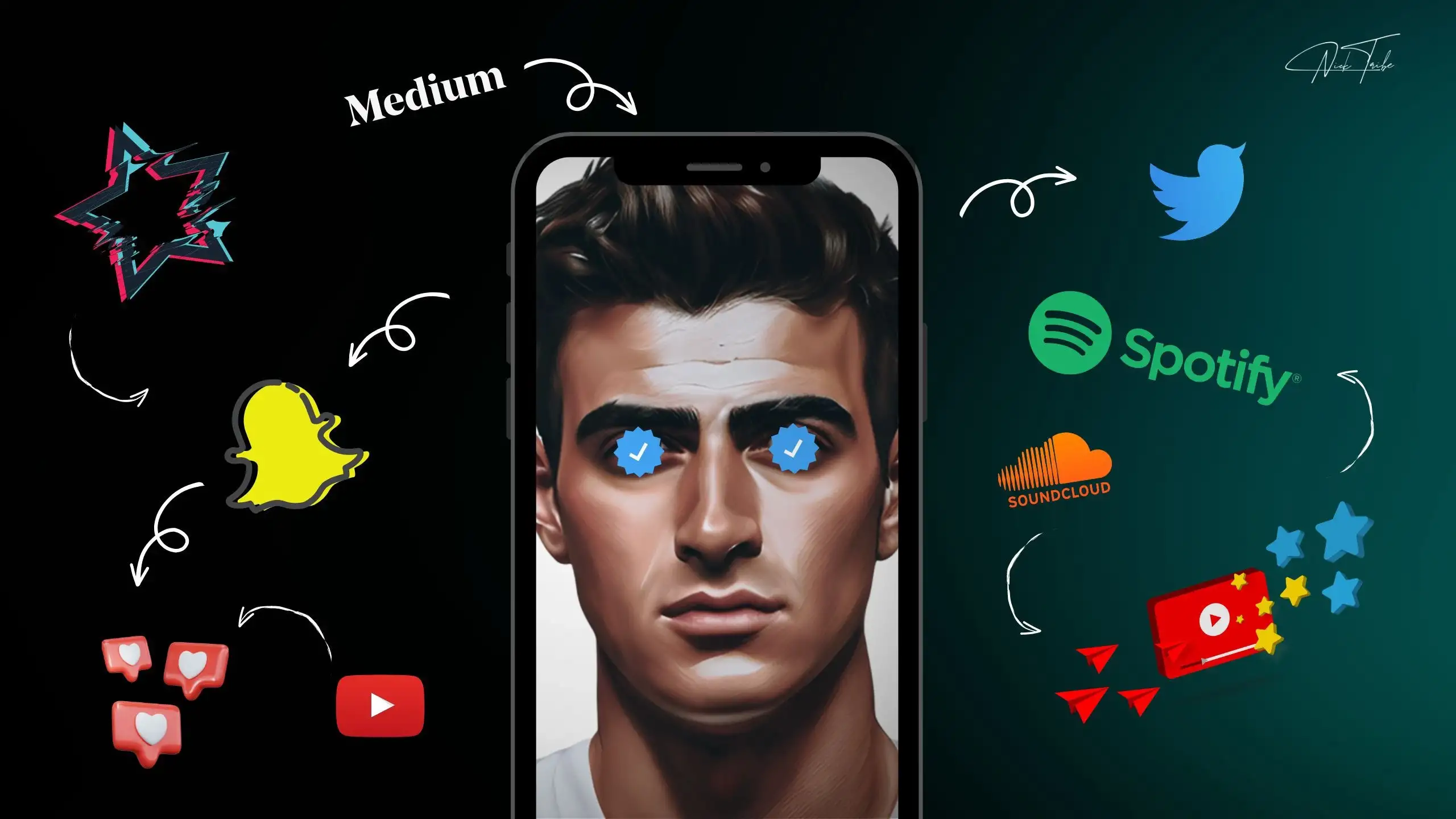 Last year, I grasped the power of content marketing.
But up until now, I never fully committed to creating a content machine for my personal brand.
This year, I'm finally going to create a content creation machine.
The reason is simple: content creation is an extremely powerful tool when it comes to creating a brand.
If you're not creating and publishing consistently content online, you're missing out on a huge opportunity.
When you publish content, it helps get your word out.
You build authority and credibility — and that goes a long way toward building trust with potential customers.
It also fills out your funnel, which means more leads, clients, and customers coming your way.
But how do you know what kind of content to create?
What kind of schedule should it have?
How often should you publish?
And what are some best practices for creating high-quality content that will resonate with your audience?
I spent a considerable amount of time learning and studying from the best content creators out there, and after some time I finally came up with a content creation machine plan.
So I'll try to answer all the previous questions in this blog post by sharing the very same plan I'm setting up in these very days.
Let's begin.
My Content Creation Strategy
I personally believe that many people get content creation the wrong way.
I sure did in the past.
The truth is that it's not enough to just create content anymore.
You need a strategy that makes sense for your business, your brand, and yourself and you need to make sure it stays relevant over time.
That's why my content creation strategy is particular and a little bit complex.
I'm a DJ / Producer as well as an entrepreneur and business builder.
Therefore I have two major goals and two sub-strategies inside my main strategy.
The overall goal is to spread the word and build an online presence on my personal brand, but my content creation plan is divided into two major blocks: Music & Business.
The Foundation Of My Content Creation Machine
This entire content creation machine is based on a single foundational principle: content repurposing.
What is content repurposing?
Content repurposing is a great way to produce more pieces of content from a single piece of content.
Content repurposing is the process of taking an existing piece of content and reusing it in different ways.
You could take a blog post, for example, and turn it into a video or an infographic.
You could also take the same piece of content and rework it so that it fits another medium (like turning a video into a podcast).
Why should you do this?
Content repurposing has the potential to save you time, because you're not creating new content from scratch each time: instead, you're taking already-existing material and reworking it into something new.
It also allows you to engage with your audience in multiple ways at once — for example, if someone has already read your blog post about how to write better emails at work, they might be willing to listen to your podcast episode on how to write better emails at work.
And finally, it allows you to fully take advantage of the social media landscape and build an online following on multiple platforms.
This will likely result in more exposure for your brand without having to re-create content for each platform every time.
Unfortunately, there's also a downside when you use this strategy.
The content you upload is not exactly 'contextual' with the platform.
Tik Tok is different from Twitter, or even Instagram.
Every platform has its own rules, preferred type of content, and algorhitm.
Nevertheless, I believe that content repurposing saves you a bunch of time, money, and energy, especially when you're just starting out.
Content Creation Machine — DJ / Music
My music content creation machine starts with the production of a musical piece of content, like a track or a pack / compilation with multiple tracks.
Once I have the track ready, I produce a cover art image. I usually do this myself (only because I like to) with tools like Canva Pro or Photoshop.
Once this process is done, the core content is ready.
I then upload the music content on both Soundcloud and Youtube.
***Disclaimer — Currently I don't upload my music on Spotify, Apple Music, or other music distributors, but once I set up systems for my businesses, I surely will.***
I then create a short promo video (usually 30 seconds) featuring the most engaging part of the track.
This short piece of content could be uploaded on YouTube Shorts, Tik Tok, and Instagram Reels.
Then I set up a system to use the music content to build my social media profiles and/or build my email list.
I use Hypeddit.com for that. It's a simple tool that allows music artists like myself to create simple landing pages where fans can download our tracks for free in exchange for their contact information, a follow on some social media platform, or a like on a Spotify playlist.
The Hyppedit platform is also a place where people go to find new music and it has its own music charts, therefore it pays to use this platform for the boost on visibility they provide too.
As of today, my tracks have hit their Top 10 Future House Chart (up to position #2), Top 10 Electro House Chart (up to position #5), Top 100 Tech House Chart and the Top 100 Global Chart.
Then the cover image on the track can be uploaded on platforms like Instagram, Twitter, and Snapchat to gain more exposure.
As stated before for Spotify and Apple Music, that's going to change in the near future too.
This content creation process allows me to maximize my reach among different platforms for a single piece of content (the track).
In a year or so I gained a combined audience of almost 10.000 people.
I gained more than 300+ followers on Instagram without publishing a single post.
I grew my Spotify Playlist from zero to more than 700+ people and my YouTube channel from nothing to 280+ subscribers.
Then, there's my email list.
My music email list counts about 4500+ subscribers. This is one of the main metrics I like to track, since I strongly believe an email list is still one of the best asset any brand can own.
I can email my list to let them know about new music, products, services, events, or news in general.
If you're a content creator, you've probably heard the advice that email is better than social media for reaching your audience.
And it's usually true.
Many people think that social media is the way to go in today's digital landscape, and it certainly has its place.
However, when you want to reach your target audience in a big way, email can be a better option because it allows you to communicate directly with your audience via a medium that is not going away anytime soon.
Even though platforms like Facebook, Instagram and Twitter can change their algorithms and make it harder for you to reach your audience, emails are much more likely to be seen by your readers.
Social media is great for connecting with your audience and building relationships, but when it comes to reaching them at scale, email is still king.
The platform where I grew the most is Soundcloud, where I passed from barely nothing to more than 4000 people following me.
These numbers aren't astonishing, but they are proof that this machine works.
It's up to me to turn up the volume and increase the amount of work that it can achieve.
And that's my plan for the next couple years.
Most importantly, this machine allows me to build a fanbase of people that know my brand and with whom I can get in touch with….without spending money on advertising.
That's the best part.
This content creation machine builds an audience organically.
This means that I can quickly increase the reach up by putting some money into promoting my content with paid traffic.
The goal with this music content creation machine is to publish a track per week.
It's going to be difficult, but if I am consistent the rewards are going to be worth it.
Content Creation Machine — Entrepreneur
Now let's dive into my content creation machine as an entrepreneur.
The plan is to create 1 long form piece of content (like a blog post) per week.
This post can be uploaded both here, on Medium, and on my blog(www.nicktribe.com).
From there, I can extract single pieces of content to post as tweets on Twitter.
The goal is to put out at least 1 tweet per day.
Other than that, I have just launched my own podcast called 'The Nick Tribe Show' where I share an inside look at everything I'm doing to build my brand.
I'm going to try to keep the podcast schedule to 1 per week.
Conclusion
All this exposure that content gave me produced results already.
My music funnel gets me roughly 10 new leads per day.
My YouTube channel got almost 7K views in the last 28 days.
More than a 300% increment from the month before.
Also, people started to reaching out to me, subscribing to my list, asking more about what I do, proposals, new leads, etc.
In other words: even without astonishing numbers, this sh*t works.
And that's why I'm going to be double down on content creation this year and beyond.
In conclusion, I believe that setting up a content creation machine can seem daunting at first, but with the right tools and a clear plan, it can be a powerful way to grow your brand and reach new audiences.
Talk soon,
-Nick